Clients that originally designed their websites with Google Blogger (Blogspot) can have the blog details imported into their WordPress application by using the "Import" function in the WordPress dashboard. WordPress has a built in "Import" function that allows you to transfer different blogs like Blogspot,LiveJournal, and even WordPress. The transfer procedure is the same for each. This article will move you through the steps in importing your Blogspot into your WordPRess on our server.
Importing a Blogger site into WordPress
Login to the WorsPress dashboard
Navigate to Tools > Import.
On the list of sites to import, select "Blogger" from the list.

On the install importer pop up box, click "Install now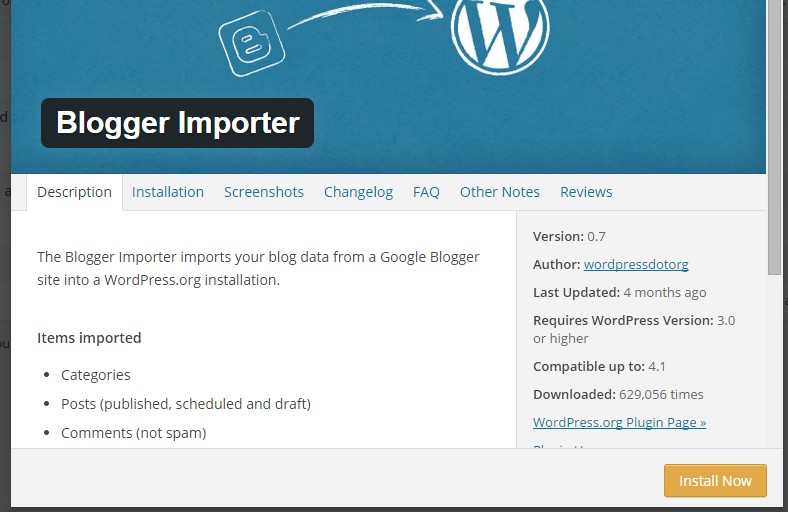 The "Installing Plugin: Blogger Importer 0.5" screen click "Activate Plugin & Run Importer".
Now the import Blogger page will show. Select the "Authorize" button.
Your WordPress will direct you to Google to Grant access to your blogger site,click "Grant Access".
Your Blog name and URL should appear in the list of Blogger Blogs. When your Blogger site is updated, click"Import" and your blogger will be imported to your WordPress.
Congratulations! Now you have successfully imported your Google Blogspot blog into your WordPress on your server.
If you have set up WordPress on a sub directory and you need to shift it to the primary domain, then you can follow the moving wordpress from a sub folder to main domain in cpanel.