The cPanel hosting control panel features allow you to check for harmful code if you suspect your hosting account has been hacked. Of course, this does not guarantee that all viruses will be discovered in this manner; in many cases, you will need to manually inspect each file: many harmful scripts masquerade as the site's system code.
This way of monitoring the hosting account, however, should not be overlooked.
Please go to your hosting's cPanel menu and pick the "Virus Scanner" option in the "Advanced" column:

This program will open a window where you must select which part of the hosting account you want to scan for viruses. Click "Scan Now" after selecting the desired option.

Depending on the size and amount of files on your hosting account, this process can take a long time.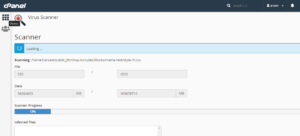 Following the scan, a list of questionable objects or a message stating that no viruses were identified will be presented.