What is FTP:
FTP stands for File Transfer Protocol,and is used to upload and download from your web hosting service account. FTP is a good way to exchange your files to the server because you can move all your files at once to the directory on your server instead of uploading one file at a time.
Connecting to FTP can be done in several ways. You can get connected to your server using a program like FileZilla, or you can use an HTML manager like DreamWeaver or Notepad++.you will just need to use the correct login credentials to connect.
How to check your FTP Settings:
Login to your cPanel 
Under files click the FTP account button



In the special FTP account section click the Configure FTP Client



You will see your settings displayed.
How to Create / Delete an FTP Account in cPanel:
Every account can use the cPanel (Control Panel) details for FTP, but extra FTP Records can be created and eliminated from your cPanel whenever you want.
Creating an FTP Account
Go to cPanel
Click the FTP accounts in file section



In the add FTP account section fill in the fields as needed.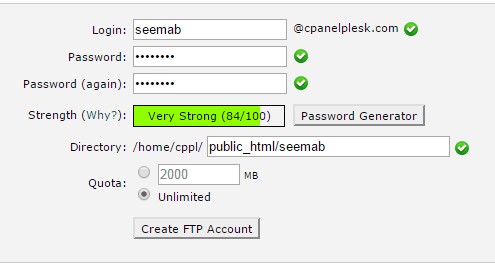 To give limited access to your website files to an FTP accont, enter public_html. Or as you name the FTP account it will try to automatically restrict accessibility public_html/username.
Click the Create FTP Account button. You will then see a message "Account Created"
2. Deleting an FTP Account
Go to cPanel
Click the FTP accounts in file section



Find the FTP account you want to remove and click the delete button.


Two buttons will appear ,choose if you want to Delete Account, or Delete Account and Files. If you're not sure which option to select, then choose Delete account. If you want to, you can go back and delete the unneeded files.



Best wishes, now you know how to createand delete FTP accounts in your cPanel.
If you are having problem connecting via ftp, you have the option to enable passive mode .