If you're trying to send emails from several email accounts but they're failing to send from both webmail and third-party email applications, there are a few possibilities:
The maximum number of emails sent per hour has been reached – this can be due to forwarders or mailing lists. The hourly rate is set to 150 by default. If you'd like this enhanced, please contact us by phone or live chat. Please provide specific details as to why the limit should be increased.
Disk quota exceeded – This can happen if one of the email accounts has met or surpassed its Disk Quota. Other email addresses on the account may be unable to send emails as a result of this. There will also be issues if you send an email to that address from an online external email client like Hotmail, Yahoo, or Gmail. The message will be returned as undeliverable.
Exim, the local MTA (mail transfer agent), could be down on the server if our email server is unavailable.
Email queues that have been backed up – Our mail proxy servers' email queues may have been backed up. Please be patient if this happens, as there will be a 3-4 hour delay before the email is delivered.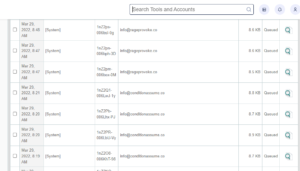 Signs to Look Out For
When sending from one email address and other email addresses on the account, the email may return a 550 verification failed or sender verify failed error. This could be due to one account exceeding its quota or authentication of the SMTP server from the email client. When logging into cPanel, a notice will appear in the upper left-hand corner for each email account that has reached its quota.

A bounceback error will occur if you send an email using webmail to an email address that has exceeded its capacity.

A bounceback message will appear when sending an email to the email address from an external client (such as Hotmail), stating: This is an automatically generated Delivery Status Notification or Delivery to the following recipients failed.